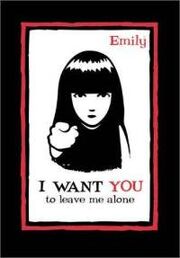 A journal of
Emily Strange
that is published by ChronicleBooks.
Introducing Emily the Strange, a smart and sullen thirteen-year-old with a posse of four cats and a bad attitude. This outspoken little girl has been making her name known across the country, bringing her thought-provoking phrases and nonconformist attitude with her. Now she makes her publishing debut with a pair of journals and a locking diary to inspire your ownmischievous thoughts.
Ad blocker interference detected!
Wikia is a free-to-use site that makes money from advertising. We have a modified experience for viewers using ad blockers

Wikia is not accessible if you've made further modifications. Remove the custom ad blocker rule(s) and the page will load as expected.