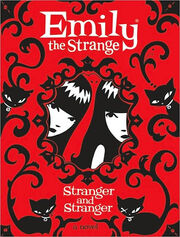 Emily the Strange: Stranger and Stranger
is the 2nd in a series of 4 books that chronicle the adventures of
Emily Strange
. 272 pages of story and illustrations, hardbound and published by HarperCollins Publishers.
Emily is . . .
1. A mad scientist
2. A cat lover
3. A mural painter
4. A golem builder
5. A virtuo-spastic guitarist
6. A wicked skater
7. A wily troublemaker
8. A poltergeist tamer
9. A mystery solver
10. A master prankster
11. An eXtreme procrastinator
12. A happy loner
13. A unique individual
. . . and now there are two of her.
Plot Summary
Edit
Ad blocker interference detected!
Wikia is a free-to-use site that makes money from advertising. We have a modified experience for viewers using ad blockers

Wikia is not accessible if you've made further modifications. Remove the custom ad blocker rule(s) and the page will load as expected.